Posted May 1, 2019
Introduction
The 2019 We Are Donor Conceived survey was conducted to gain meaningful insight into the thoughts, feelings, and experiences of donor conceived adults— i.e. individuals conceived via sperm, egg, and/or embryo donation.

The survey was open between April 4th and May 30th, 2019. To garner as many responses from donor conceived adults as possible, it was shared on two Facebook groups for donor conceived people: We Are Donor Conceived (1,055 members) and the Worldwide Donor Conceived People Network (511 members). Several individuals who are members of these groups also shared the survey link with donor conceived siblings who were not members of these Facebook groups.

About We Are Donor Conceived
wearedonorconceived.com was launched in 2016. The website is a multi-purpose online space where donor conceived people can share their stories and find information and resources. A Facebook group by the same name was launched in November 2016 and has quickly grown to over 1,000 members. People join the group to meet other donor conceived people, provide or seek support, or simply out of general curiosity.

About survey participants
A total of 312 donor conceived people ranging in age from 15 to 74 participated in the survey. The majority of respondents (96%) were over 21 years-old. The survey attracted responses from people born in 15 different countries, including Australia, South Africa, Belgium, Norway, and the UK. The majority of respondents were from the United States (248) and Canada (29).

Most respondents (86%) were raised by heterosexual parents. Over half (57%) did not grow up with another donor conceived sibling. Most participants (84%) were female. Although the survey was open to individuals conceived via donor egg, sperm, or both, 98% of respondents indicated they were conceived via donor sperm.
Learning about being donor conceived
The majority of respondents learned the nature of their origins from their parents, either as a child (13%), teenager (14%), or adult (21%), while 6% said they "can't remember/always knew." Thirty seven percent discovered the truth from the results of a commercial DNA test such as 23andMe or AncestryDNA.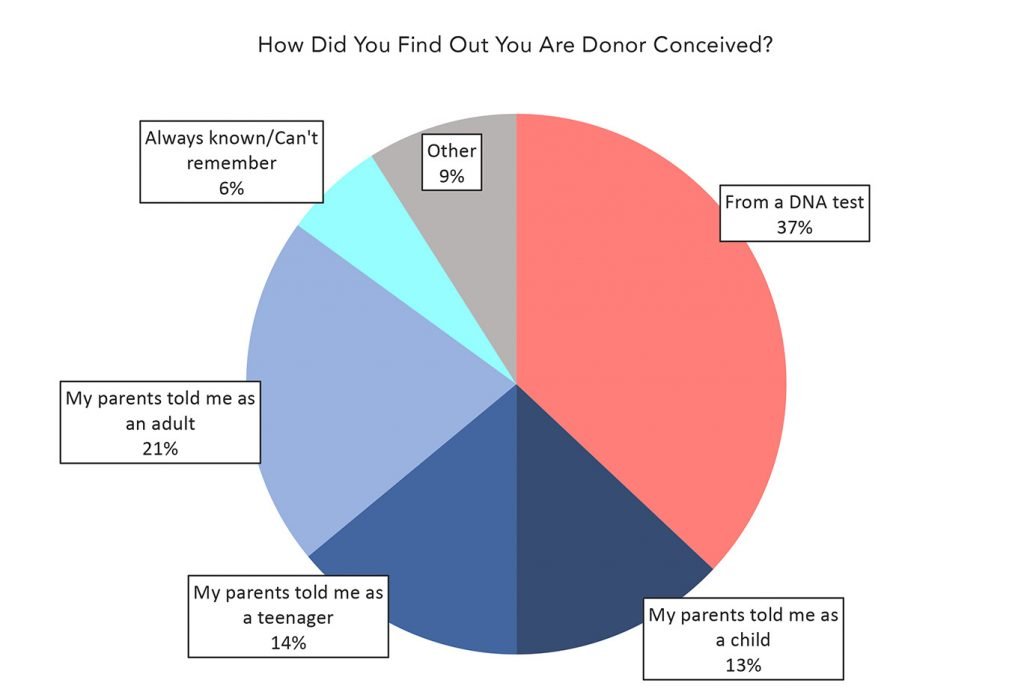 Previous research suggests a societal attitude shift towards early disclosure in the 1990s, as more single women and lesbian couples began accessing anonymous sperm donation to conceive a child. Survey results lend some support to this theory. Fifty eight percent of respondents who indicated they found out the truth as a child or they "can't remember/always knew" were born in 1990 or later, while 84% of respondents whose genetic origins were revealed by a DNA test were born before 1990.
Family arrangement also affects disclosure rates. Among those raised by a single mother or gay/lesbian parents, 82% indicated they learned about their origins as a child or can't remember/always knew. Of those raised by heterosexual parents, only 11% learned about their origins as a child or can't remember/always knew.

DNA testing and impact on donor anonymity
Commercial DNA testing services aren't just revealing the truth about individuals conceived via sperm and egg donation. Survey results indicate these kits are also a popular tool for donor conceived individuals looking to learn more about their ancestry, family, and health.

Ninety four percent of survey participants said they have taken a DNA test and an additional 4% indicated they plan to do so in the future. Sixty seven percent of respondents indicated they took a test to find their donor conceived siblings or learn the identity of the donor him/herself. Respondents were also interested in what information these tests could provide about their health (55%) and ancestry (76%).

DNA testing has effectively ended any promise of donor anonymity. Fifty five percent of respondents said they have successfully identified their donor through DNA testing. When donor conceived individuals discover this information, it is commonplace for them to attempt contact. Fifty four percent of respondents attempted contact with their donors. The most commonly cited reason respondents gave for not reaching out is the donor is deceased. Among those who made contact, 48% indicated that their donor is open to communication.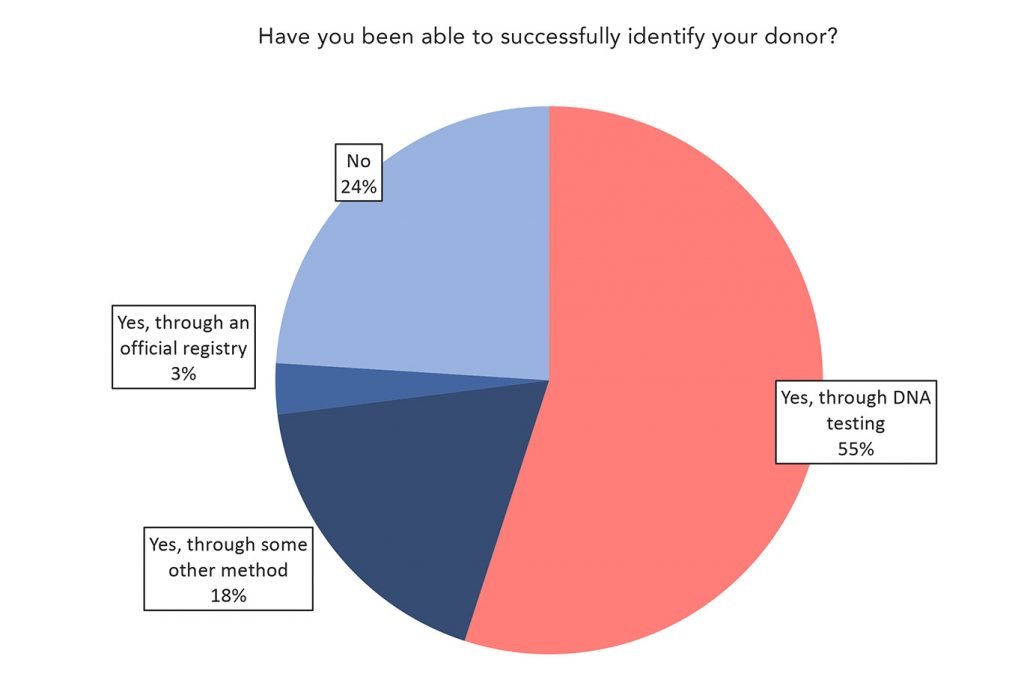 Survey results also indicate donor conceived people are seeking (and finding) donor siblings using DNA tests. Seventy two percent have identified a donor sibling this way. Most (60%) have found one to five siblings while 13% have discovered 20 or more siblings.

Perceptions of the donor
For the sake of brevity, this report primarily uses the word "donor" to denote the person who provided half of a donor conceived person's DNA. When asked how they describe this person, respondents indicated they use a variety of terms, including sperm donor or donor, biological father/mother, donor father/mother, father/mother, and dad/mom. The most commonly cited terms were sperm donor or donor (182 responses) and biological mother/father (152 responses).

Perspectives on donor conception

Participants were invited to share their feelings about what it was like to learn they are donor conceived. Short answers to this question frequently included words and phrases like shocked, surprised, confused, devastated, deceived, angry, heartbroken, relieved, and "like a science experiment."

Forty eight percent of participants agreed with the statement "the method of my conception causes me to feel distressed, angry, or sad" while 35% disagreed (17% were neutral).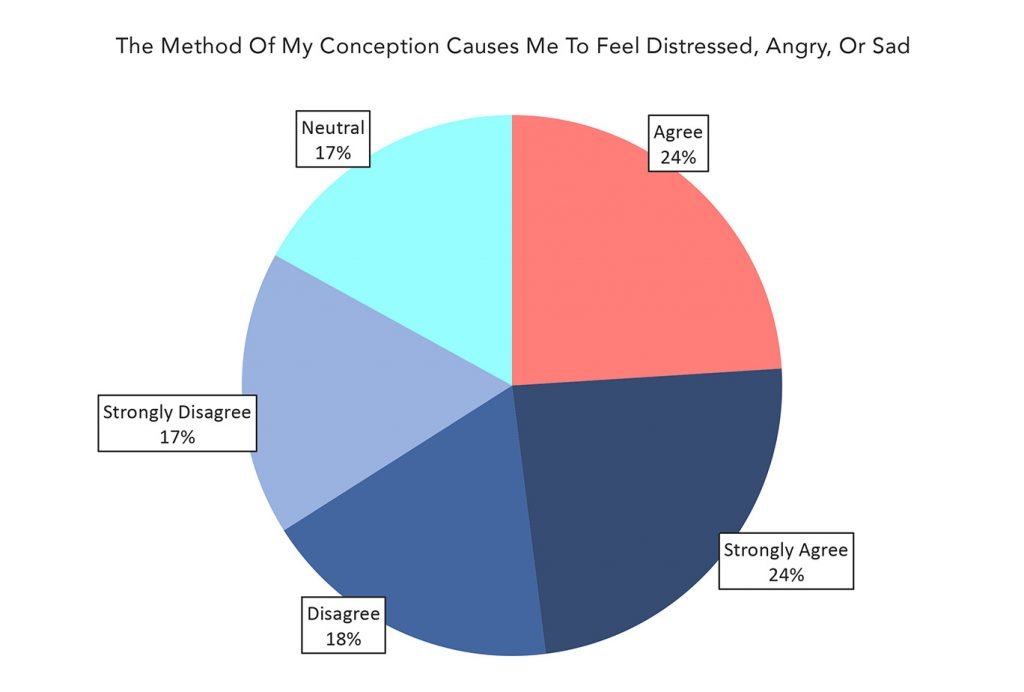 Attitudes about donor conception and the need for reform

Regardless of their family arrangement or when or how they learned about their origins, respondents indicated strong support for donor conceived individuals to have the option to access information like how many donor siblings they have (87%), the medical history of their donor (99%), and the identity of their donor (91%).

Seventy four percent of respondents do not support anonymous donor conception. The use of non-anonymous/identifiable donor eggs or sperm to conceive a child has more support amongst respondents: 59% agree with this practice, while 22% disagree.

Ninety one percent of respondents support a set limit on how many offspring a single donor can produce. When asked how many offspring would be appropriate, the highest ranked responses were 1-5 offspring (35%) and 6-10 offspring (38%).

The need for reform is clear. Eighty six percent of respondents agree that sperm banks/clinics "do not adequately understand or respect the emotional needs of donor conceived people."

Identity issues and concerns
The majority of respondents (64%) agreed with the statement "My donor is half of who I am" and 78% agreed that being donor conceived is a significant part of their identity.

Eighty one percent of respondents say they often wonder what personality traits, skills, and/or physical similarities they share with their donor and 77% worry they do not have a complete and/or accurate family health history.

The majority of respondents (53%) also indicated they are worried the mother and/or father who raised them would feel angry, hurt, or threatened if they expressed an interest in learning more about their donor.
Further reading:
2018 We Are Donor Conceived Survey Results
2017 We Are Donor Conceived Survey Results